Heritage hotel & spa at the Great Wall
Brickyard Retreat is a repurposed glazed tile factory. Our 25 rooms and suites all open to vistas of the Great Wall through story and a half window walls. We also offer 11 vacation homes nearby with 2 to 5 bedrooms that were created from village homes. Brickyard was founded by Jim Spear & Liang Tang, who live nearby and designed all of our facilities.
Our Spa offers an outdoor jacuzzi open year round with view of the Great Wall. The Gold Suite's unique sauna features panoramic glass windows looking at the Great Wall. Every treatment suite has an en suite bath and is open to light and nature. The treatments are based on traditional Chinese practice and use all natural ingredients we compound. There is also an exercise area with Technogym equipment and a yoga platform in the garden next to our lotus pond.
Dining is all day from 07:00 to 21:30 in the Lodge. Everything we serve, from breads to ice cream, is homemade from scratch. A generous country breakfast is included for all guests staying in rooms in the retreat and at other times we offer an a la carte menu with comfort foods from China and around the world. We also help guests try local restaurants and farm stay dining experiences.
The Brickyard is an ideal venue for events such as weddings, celebrations, and meetings with indoor and outdoor facilities for up to 120 guests.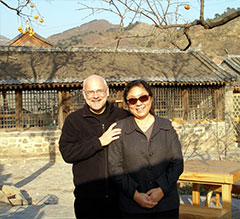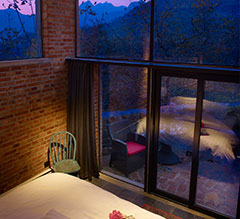 Our hotel offers other facilities for the enjoyment of our guests, including free wireless internet throughout. There is a cozy den with a wood-burning fireplace in the Lodge, an inviting place to curl up with a book from our collection and enjoy a coffee or a tipple from the bar. A separate card and cigar room with a Mahjong table has its own ventilation system and is the only indoor space where smoking is permitted.
We also have a video & game room with a large selection of movies, cartoons, and games. Next to our kitchen garden a sunken Petanque Terrain invites guests of all ages to have fun with this traditional French sport. There's even a playground with swings and a sandbox in a far corner of our garden for the kids along for an experience in China's countryside. And everyone just loves the quiet corners with comfortable chairs around the gardens as well as the fountains and the lush lawns that are perfect to go barefoot.
Reserve directly with us for the best deals
No one is authorized to offer rates that are lower than the ones published on our website. All of the rates here, including our own special offers, are packaged as Self-Guided Visits (not available from anywhere else) and include the choice of one of our guide books regularly offered for RMB 42 each.
We also offer a variety of year-round and seasonal special packages offering special experiences and deals to guests who book directly with us and pay in advance. Click on any of the boxes below to get details.
Throughout the year we offer activities that can be enjoyed by lodging and day visitors alike. These include yoga classes, live music, barbecues, farm-to-table dinners with our partners, and gala holiday meals for Spring Festival, Mother's Day, American Thanksgiving, New Year's Eve, and many more. Plan your visit to Mutianyu Great Wall to include a special activity at the Brickyard.
We are committed to sustainability
Brickyard Retreat is part of The Schoolhouse at Mutianyu family of enterprises started by Jim Spear & Liang Tang to provide jobs for their village neighbors and help to sustain the local community.
The concept of sustainability also extends to the design of our venues, the foods we serve, and our operating practices.
All of our venues are based on existing footprints, preserving whenever possible, employing used building materials, and adopting efficient design principles.
The food we serve in the lodge and our other dining venues is all homemade from scratch. We grow many of our own vegetables and fruits, and source about 80 per cent of our ingredients from local suppliers. Our coffee is grown and specially roasted for us in Yunnan.
Of course, we do import fine wines, cheeses, and olive oil so that we can offer a pleasant dining experience to our guests who hail from China and more than 100 other countries.
We compost our organic waste, recycle, and manage energy, water, and waste. We don't use plastic bottled water and even our straws are made of paper.
All of our lodgings feature all-natural Shangrila Farms bath products and Kaimi organic soap.
Our hotel rooms have new handmade straw sandals for every guest, to take away as a souvenir or leave for us to shred into our compost pile.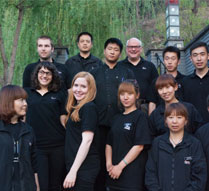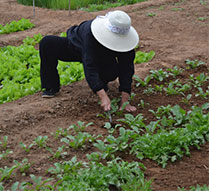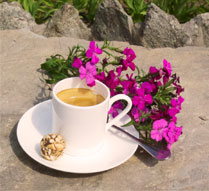 Directions
Brickyard Retreat is located about 60-90 minutes from downtown Beijing or Capital Airport in Beigou Village just under Mutianyu Great Wall. It is easy to drive here yourself or take a taxi or public transportation. We also offer a painless private transfer service.